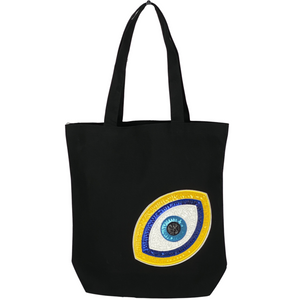 A canvas sequin yellow eye tote bag is a type of handbag with a yellow eye graphic decorated with sequins on canvas material. The bright yellow color and sparkly sequins create a playful and eye-catching look, making this bag an excellent choice for anyone who wants to add a touch of fun to their outfit. The large tote bag provides ample storage space for everyday items, making it a practical choice for work, school, or running errands. The canvas material is durable and can withstand daily use, making this bag an excellent investment for anyone looking for a stylish and functional accessory.
Recommended wash this clutch bag on a gentle cold wash (30 °C) and not tumble dry.  

Details: 
Length: 13 1/4"
Width: 13 1/4"
Thickness: 3 3/4"
Handle Drop Length: 9"