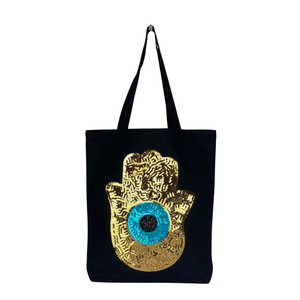 The Hamsa Hand Canvas Bag is a giant shiny gold hand symbol. Each bag is finished with a hand-pressed sequence patch, perfect to pair with your favorite denim jeans or long kimonos for that boho vibe! This is a truly versatile piece and essential for every evil-eye lover!

Great as a gift for someone special, or maybe even a self-care gift—because why not? Not only does this tote double as a fashion statement and a symbolic piece, but it's also a great way to care for the environment. So you can feel good at the end of the day, whether you gifted this to someone you love or perhaps yourself, knowing that you've contributed to a positive change.

Details: 
• Length: 15"
• Width: 15'' 
• Thickness: 3"
• Handle Drop Length: 21"